What is Save the Cat?
Save the Cat! is a book by Blake Snyder written to teach people how to write screenplays. It was wildly successful, so next came various adaptations.
I read the Save the Cat! Writes a Novel book a few years ago. I liked it because it approached story in a very logical way, which appeals to me as an outliner. It works like The Hero's Journey and many others–it takes the major story twists and turns and lays them out in a flexible pattern. You do not want to use this as a formula, or your story will become stilted. Many people argue against using "formulas" such as these but these guides are merely a tool and any tool used incorrectly can be bad. Used correctly this book can be very helpful, especially for new writers. When I first started writing short stories I used a tool like this to guide my plot and keep the story tight. After a few dozen stories, it became ingrained in me and I don't need to use that guide as much.
I was given this software in exchange for an honest review.
Is this Only for Outliners?
No. Some discovery writers use tools like this after they write the rough draft. It helps to look at their story and see what needs to go and what should stay.
That said…I see this software being most useful to outliners.
What does the Software Program Do?
Just about everything! When you first look at the screen, it seems very overwhelming. Don't panic though. It is adjustable so you can focus on one part or another. This is a program meant for a very detail-oriented person.
It has some cool features that writers are going to love! In order to effectively review this software, I think I need to show you my guided tour. To show you how this works, I took a story that was published last year on Youth Imagination Issue 71 and put it into this program to show you how it all works. If you would like to read the whole short story before we get into the example of this program it will make more sense. It is a 6 page story if you single space it. It is about a boy with autism who is trying to save his neighborhood from a rampaging troll. In the process he meets a girl who wants to help even though he doesn't want help.
First, what are the main parts?
How do I as a writer use this program?
Who will like this program?
Outliners and people who love tracking all the details of conflict, characters, places, etc. will love this program. This is great for keeping track a vast cast of characters and multiple plot lines in Sanderson size stories. I found it useful for tracking conflict and emotional changes.
I did run into a glitch or two while playing around with this program. I contacted the help desk and they got back to me very quickly. They made sure it was fixed for me. This has a small company feel because they were so responsive when I reached out to them with the problem. The person I was emailing was knowledgeable, not someone blindly going through a pre-scripted checklist like would happen in a big company. I like that about this company.
It has a lot of bells and whistles, more than I could ever use, but it is more user-friendly than some other programs out there.
Overall, I like the program. If you would like to read more reviews of this program or the book, check out these other blogs!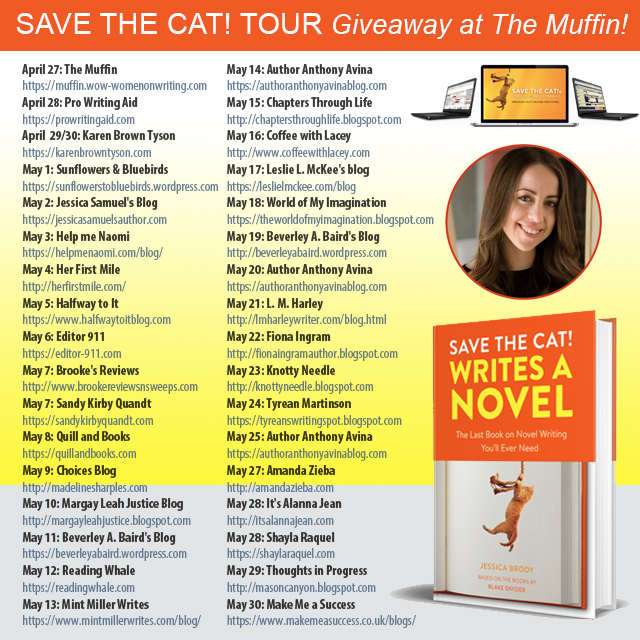 If you would like to visit the website, here is the link https://savethecat.com/
If you are interested in buying the software you can go here: https://savethecat.com/save-the-cat-4
To enter the giveaway and get links to all the other blog posts, click here https://muffin.wow-womenonwriting.com/2020/04/save-cat-goes-on-blog-tour-and-giveaway.html
---
Update on From Rough Draft to Published!
It is getting exciting! The edits are done! The cover is designed! ISBN is purchased! I even have a LCCN (Library of Congress Control Number). I am currently formatting the book! Can you say persnickety! The formatting might do me in! I am hoping that I can learn to do this and get the book out asap. If not I'll have to hire someone to do it, which will take longer. So…next week I will reveal the cover! I want to put the publishing date out there but I'm afraid something will go wrong and I'll miss the date. Maybe by next week I can announce the release date.