I got this fun idea from a blogger called Robin Lee Ann. It was such a nerdy me kind of Idea; I had to jump on board and do my own! So here goes:
IRON MAN: A book that made you laugh out loud
Warlock Holmes: A Study in Brimstone is written with such voice! The narrator had me belly laughing.
You can see more about this book in this blog post from earlier this year .
Sherlock Holmes in this story is a warlock. Dr. Watson is a regular guy who was looking for a roommate and has no idea that his new roommate has some REALLY strange habits and even odder friends. The murders they investigate are not at all ordinary and definitely not what they seem.
CAPTAIN AMERICA: A book that sends a positive message
Skyward is a book with a positive message. (Many Brandon Sanderson books do!) Hard work will get you far in life. It also has the message that life is not fair, true, but the main character uses her rough life to overcome enormous obstacles in her life.
Skyward is a book with a positive message. Hard work will get you far in life. It also has the message that life is not fair, true, but the main character uses her rough life to overcome enormous obstacles in her life.
This book is about Spensa, daughter of a traitor and coward. She refuses to believe it, but she seems to be the only one. She dreams of being a fighter pilot like her father, but most say she can't be trusted because the cowardice might run in the family. She knows they are wrong about her and is determined to prove it.
(I can't believe I didn't do a full book review on this book! What is wrong with me! LOL! I'll have to remedy that soon!)
THOR: A book with a character's strength you admire
There are so many to choose from! I love stories with strong characters. Marion Zimmer Bradley writes really strong characters. I read a book in high school by her called Firebrand. It's about Cassandra of Troy. It is the story of the fall of Troy from Cassandra's POV. She warns them but nobody listened to her. It is more than that though; her whole life is fraught with tragedy and strength.
WARNING- This story includes adult material and disturbing violence. The kind of violence that happens to women and children in war. This is not recommended for anyone under 14!
For a more age appropriate recommendation, Skyward is an excellent book! This is about a girl whose father was named a coward during battle. Spensa knows her father was not a coward. She dreams of becoming a fighter pilot like him, to bring honor to their family again.
BLACK WIDOW: A book with a totally awesome female protagonist
This is my favorite kind of story: totally awesome female protagonist!! So many to choose from!!
The Bear and the Nightingale is my current read. I am totally in love with Vasilisa's spunk and wildness! She is the daughter of a wealthy lord in Russia, deep in the northern woods. She has the ability to see the old house gods and befriends them. Trouble is woven throughout the story in the form of a step mother, the winter king, and a priest come to exorcise the old gods.
If you want an older story you can't go wrong with The Black Trillium series. This is written by three strong women, about three strong women. They are princesses growing up, each has a talisman and magic ability that together has the power to overthrow the dark magician.
Another old story that I remember reading as a teen is the Sword Dancer series of Tiger and Del. I need to go back and reread this series sometime. In all my spare time, right! This story is told from Tiger's POV but he spends a good portion of his story with Del and eventually falls in love with her. Del is rather independent though and wants none of it!
Finally, a more recent awesome protagonist. Fire and Heist. I like this one for many reasons. One reason is that although she gets dumped in a very publicly humiliating way at the beginning of the book by her longtime boyfriend, she does not spend the next hundred pages pining over him. She does not plot revenge. She processes her loss but focuses on the bigger picture, saving her family's honor. This is a delightful heist story. Read more here if you like.
HULK: A book that made you incredibly angry.
Apparently, I tend to block from my memory books which make me angry. I know there have been a few, but I can't seem to remember them right now. At least the ones that made me mad in a bad writer kind of way.
Now, I've also read books that make me mad for the injustice upon a character. Of those there are plenty. One of the best I read this year was Chains by Laure Halse Anderson. This is a wonderfully written story, but the way this character was treated by people in the story was so very heartless. I don't read these kinds of historical fiction often because I am too empathetic when I know that this kind of thing happened in real life. It breaks my heart and makes me furious that one human could treat another human so cruelly.
This is about Isabel, a slave who was supposed to be freed upon her master's death. That however did not happen. This is her journey through life during the American Revolution as a slave seeking freedom and justice for her and her sister.
HAWKEYE: An underrated book you think more people should pay attention to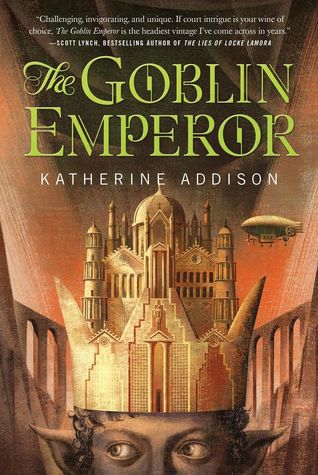 The Goblin Emperor by Katherine Addison. Normally I love books with action and magic and strong characters. This one is different, yet it is still one of my favorites. It's an underdog story but with incredible elegance. It is about Maia, the outcast son who was literally exiled. He was raised by an abusive cousin, knowing nothing of courtly life. An accident kills everyone in line for the throne except Maia. He is now king. Some are working against him. He doesn't know who to trust. He is very smart though.
The writing in this book is absolutely stunning! Even though this is a very political intrigue type book (which I normally hate) I was completely enthralled through the entire story!
*BONUS* LOKI: A book with a twist
The Dragon Pearl has a twist I totally didn't see coming. It could have been really bad because it was unexpected but the author did this brilliantly! This story is all around amazing! It's about a Koran myth of the nine-tailed fox but it is set in space. This girl, Min, is a fox (shapeshifter) as well as her whole family, but they have to keep it hidden because shapshifting breeds distrust. Then she gets word that her older brother has deserted the army to search for the dragon pearl. This mythical pearl is the source of immense power. Min knows that her brother would never desert and bring dishonor to her family, so she sets out to find out what really happened!
*BONUS BONUS* SCARLET WITCH: A book with a cool magic system
Any book by Brandon Sanderson has a cool magic system! The Emperor's Soul is one of his most creative magic systems. This book is a novella. (a really short novel) Sanderson was inspired by stamp signatures he saw in a museum in Taiwan. The girl in this story is a master forger and has been asked to create a forgery of the emperor. This is quite possibly one of my favorite character personalities. Well except for Wane in the Mistborn series.